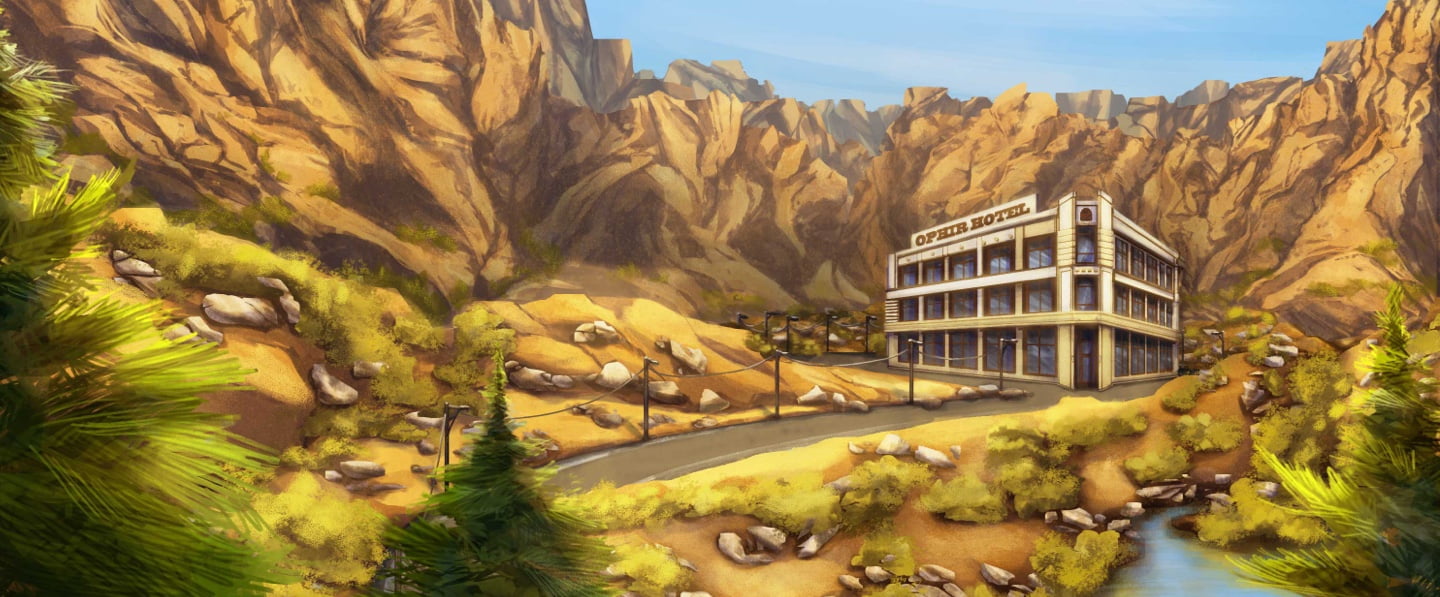 Welcome to the Hotel Ophir!
Historic hotel in Black Creek, Oklahoma
Travel back to the days of the gold miners at Hotel Ophir, the oldest hotel in the Wichita Mountains. Built in the 1850s a few miles outside the mining town of Black Creek, it was completely renovated in the 1920s and boasts refined Art Deco charm.

You can already feel the multi-faceted history of the Wichita Mountains in the lobby: Marvel at local treasures found during excavations in the mountains, which are exclusively exhibited here.

The hotel also has the oldest active elevator in the United States, making it a true gem for those who want to breathe and experience living history.

Furthermore, a stay at the Ophir is also perfect for a romantic honeymoon or a relaxing spa treatment. The location in the picturesque Wichitas holds its very own wondrous experiences and memories for everyone.
Excursions in the Surroundings
Popular Hiking Trails
THE SECRET LAKE OF
OPHIR
It is said that a treasure lies buried in a secret lake in the Wichita Mountains.

This lake is said to be a gateway to the legendary gold city of Ophir mentioned in the Bible. To find it, use this historic hiking route:
Follow

49

northward to the creek of the black cat.
At the top of the creek, move north to the canyon of the green leaves.
From there, go westward to the valley of winter.
From here, hike even farther west, and you'll find the lake.
The first word in the name of the lake is what the search requires.
History of the Region
GOLD IN THE WICHITA MOUNTAINS
Archaeological traces point to a very early settlement of the region. The region came into the focus of explorers and soldiers of fortune, especially from Spain, as early as the 17th century. The earliest finds of settlements and mining activities in the Wichita Mountains date from this time. A second gold rush began in the mid-19th century. Many small towns in the region sprang up during these eventful years. Our establishment was also founded during this time and has been proud to welcome guests to the Black Creek Valley for over 150 years.
Recreation
A PARADISE FOR GAMBLERS
Shortly after opening, the saloon of our hotel was a popular meeting place. Thus, the oldest known photograph of the region shows a group of miners playing cards there.

Today we are proud to continue this tradition with regular events. But even beyond card games, we have always provided for our guests: At the reception there are always some board game classics and current titles available for our guests to borrow: How about a game of the bestseller "EXIT - The Game"? We always have a few copies in stock for you!
MISTAKE
No result could be found for the entered search term.

Please try again.
You can find help for the puzzle in the app
"The Curse of Ophir"